It might sound a little weird, but have you ever thought about HOW you actually show yourself love?
When it comes down to it, the relationship you have with yourself is more important than any other on the planet, so by tweaking a relationship concept called "The 5 love languages" (Based on a book by Gary Chapman) we can understand how we like to give and receive love and apply this to our self-care routine.
The idea behind the Love Languages is that in order to connect with your loved ones and create stronger emotional connectedness (not just with romantic partners, but friends and family too!) it's important to get to know each others' preferences in both giving and receiving love.
But this doesn't just apply to others – even if you're a single pringle or have zero issues connecting within your relationships.
It's still helpful to understand what YOUR Love Language is, because in order to truly be a self-loving, confident, and peaceful person, you need to be able to show that love to yourself in a meaningful way!
Your first step today is to identify your Love Language(s), if you don't already know! The below quiz will detail how much of each love language resonates with you (usually there are 2-3 key love languages that we most prefer), and if you've never done this before, you're about to understand yourself SO much more!
The 5 Love Languages are:
Physical Touch – Kinda goes without saying, but cuddles, sexual intimacy, hand holding and even just that cute little brush-your-hair-behind-your-ear thing that partners do (swoon)

Words of Affirmation – "I love you" is obviously a big one here, but any kind of verbal affirmation, even as simple as a "thank you" or "I appreciate you" falls into this category.

Acts of Service – handy things around the house, or any kind of service to make your partner's life easier, or vice versa

Receiving/Giving Gifts – This could be thoughtful presents or money spent, or even just simple things like buying your favourite ice cream even if it's not their go-to flavour.

Quality Time – Spending time with your loved one, with undivided attention.
So if you're not sure what yours are, do the quiz here – https://www.5lovelanguages.com/quizzes/
Once you know the love languages you resonate with most, on to step 2:
How to Love Yourself Using Your Love Language:
If your love language is: Words of Affirmation, you can –
Recite positive affirmations
Read through quotes that resonate with you
Write a list of compliments/things you like about yourself
Journalling
Read a self-development book
If your love language is: Acts of Service, you can –
Spend time cooking yourself a meal you love
Get your hair/nails done
Delegate/outsource some chores
Clean/organise a room in your house
Book in for a personal training session, coaching call, or therapy appointment
If your love language is: Physical Touch, you can –
Do your skincare routine
Get a massage
Move your body in a way that feels good, or spend time stretching
Scrub + moisturize your body
Self-touch (you feel me!)
If your love language is: Quality Time, you can –
Sit and watch a sunrise or sunset
Take 30 mins alone to switch off from technology
Go on a hike or scenic walk
Have a bubble bath or take ~that~ shower
Use a guided meditation
If your love language is: Receiving/Giving Gifts, you can –
Buy yourself a new outfit
Order your very favourite meal for dinner
Invest in a course/workshop to level up
Book a trip/weekend getaway
Create a self-care toolbox with your fave items like candles, books, snacks etc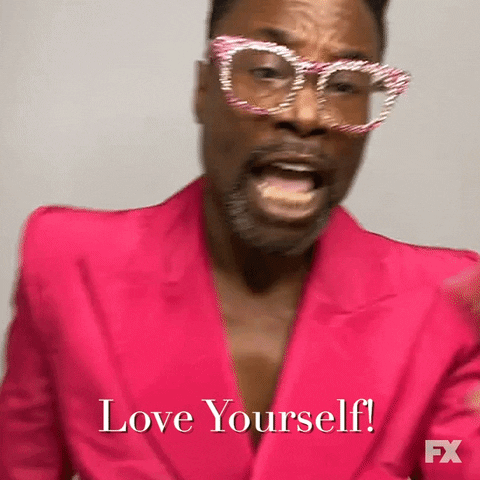 We all need different things to feel loved, and we all express love in our unique little way.

So don't forget to show love to yourself! And HOW you do that is super important, so have a think about the ways you like to receive + give love within a relationship, so you can apply that to your self-care practices, and truly give yourself the love you deserve!

Sami
X