When it comes to deciding if you'd like to see a Counsellor or Psychologist it can be a little daunting, especially if it's your first time seeking therapy.
Firstly, I'm SO damn proud of you for taking this step towards improving your mental health!
Secondly, I know it can be confusing to work out whether you need to see a Counsellor or Psychologist, BUT the good news is you're not alone in this, so let's help break things down a little for you! 💕
To put simply, both Psychologists and Counsellors are mental health professionals and they do have a wide overlap with the styles of talk-therapy used. However there are some key differences between the two, so it's helpful to know which one aligns more with your current goals and presenting concerns.
In terms of similarities – both Psychologists and Counsellors can also have their niche specialty areas, with significant study and ongoing learning behind this, so if you're after something specific, there's a therapist out there that fits your individual needs!
For instance, I specialise in body image and eating issues, as well as general counselling, however many Psychologists or Counsellors don't have specific training in eating disorders and in these cases would need to refer out to someone like myself!
Nowwww, let's chat through some of the differences below!

Counsellors:
Generally focusing on facilitating behaviour change, increasing self awareness, developing coping strategies and gaining new perspectives

Use a range of modalities, including Cognitive Behavioural Therapy (CBT), Person-Centred Therapy (PCT) and psychotherapy techniques

Require a minimum of 2 years study. Look for the term REGISTERED counsellor to ensure they have valid & current qualification and are registered with a governing body that ensures ongoing study and professional conduct

Are unable to provide Medicare rebates, however some counsellors can process private health fund rebates depending on their field and level of registration/experience

Can often be more affordable per session than a Psychologist (especially once your 10 Medicare rebates are used)

Generally work with more lifestyle based solutions and help in navigating your thoughts vs specifically treating mental health conditions outside of anxiety/depression

Typically tend to be more short term, problem solving treatment (but can also be long term if that's what you need!) and sometimes incorporates a coaching-style approach

Do not require a GP referral

Psychologists:
Are generally seen as experts in human behaviour/the brain.

Must have 4 + years of tertiary study and placement.

Can offer Medicare rebates via the Mental Health Care Plan, and/or private health fund rebates to make the first 10 sessions more affordable

Can at times feel more clinical/formal (but does depend on your chosen therapist!)

Tend to have longer wait times for appointments in the current climate due to high demand and GP referrals

Treat more complex thought processes and behaviours, with a focus on behavioural science and clinical-based treatments

Typically provide longer term treatment for deeper psychological concerns such as mental illness/trauma, including diagnosis and treatment of mental disorders (a Clinical Psychologist can help with diagnosis, however a Psychiatrist would be needed for any prescriptions of medication)

Require a GP referral, and ongoing Mental Health Care Plan checkups if using Medicare rebates
It's important to remember regardless of which you decide, every therapist will have different skills, strengths, therapy styles and individual personalities! Most of all, you just want to make sure you feel understood and supported by someone who is qualified, registered, and has experience in the area of your presenting concerns. Research shows that getting on well with your therapist is the single biggest predictor of having successful change in therapy – yay!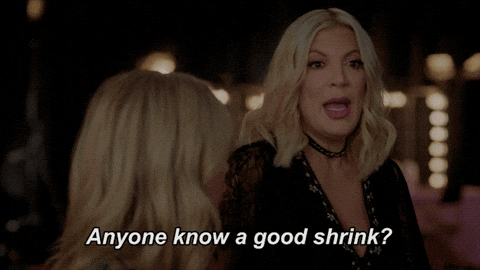 As always, I'm here to help if you want any further info on how to choose the right therapist for you, or what to expect from the process. There are many options for online counselling these days so you don't even have to leave your home! In my own practice, I work with a range of different presenting issues with my clients – anxiety, transitional life periods, breakups, processing life events, stress management and my specialist areas of body image and eating issues (plus more!).

If you want to explore whether we'd be a good fit, book in a free 15-minute consultation here, and we can chat more about how I can help you, or direct you to someone who's the best match for you.
Hope you're happy and healthy out there 💜
Sami
x
---