Are you guys ready to hear it!?… Setting boundaries is a form of self care.
*Mic drop*

Let me explain…
By reflecting upon and actioning healthy boundaries, you are able to set the standard for how you want to be treated.
For those of you who identify as a people-pleaser, I know how hard setting a boundary can be, or that you fear you're going to come across as mean, rude, or bossy, or simply that you'll hurt the recipients feelings. But in reality, setting boundaries actually allows you to build more mutually respectful connections with those around you, can help you show up more assertively to those around you (which can be a big bonus in the workplace) and can positively impact your own self-esteem and confidence.
Read ahead for some game changing boundary-setting tips!
1. Establish the specifics of your boundaries/needs and communicate them clearly & assertively
Keep it simple and concise! Try not to apologise for the boundary you are setting – you have every right to lay the ground rules for what feels acceptable and appropriate for you!

2. Briefly explain (don't over justify!) the benefits of this boundary, or how this prior behaviour doesn't work for you
Communicating your needs in a respectful manner and following up with a short explanation of why it's important will help to alleviate some of the discomfort that many people experience when setting new boundaries in existing situations.
3. Get comfortable with the discomfort of enforcing those boundaries – No feeling like the "bad guy" for expressing your needs!
You are not responsible for the other person's reaction to your boundary, but in some situations, you may receive some push-back. Be prepared to remain firm, even if it feels uncomfortable in the beginning. It gets easier with time!
4. Follow through on your end by continuing to apply those boundaries! If it's important to you and helps you, those around you will understand!
If you're a people-pleaser in particular, you may experience guilt, fear of judgement/rejection, or even feeling like you are being selfish. This is when you need to remind yourself that prioritising your needs is an important demonstration of self care!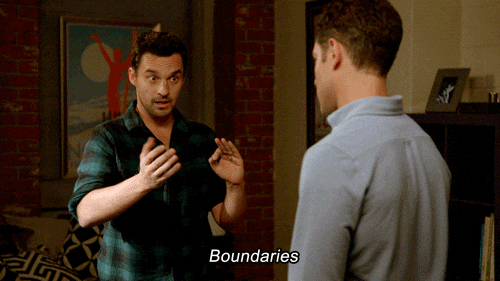 Remember, you deserve to be treated with kindness and respect, and that starts with showing up for yourself, consistently!

I truly hope these tips can help you start to implement some strong boundaries within your relationships.
If you'd like more personalised advice on setting boundaries, letting go of people-pleasing tendencies, being more assertive, or any other self-development/mental health concerns, book in for a 1:1 counselling session or free 15 minute consultation to discuss how I can help!
Sami
X